Beware, for you are stepping into the psyche of an Asian teen named Tri Nguyen. Turn away now if you don't wanna read…weirdness. Anywho.
XPERIENCE…is a pretty decent indie rapper, but we're not here to talk about that. Oh no.
We're here to talk about…EXPERIENCE.

Okay, not this one either. Well, thinking about it, this does come up eventually. We'll get to that. Let's get to the point.
So I'm an average Asian kid, which means I'm nerdy, awkward, and anti-social. My entire high school career I tried to either own the hell out of that image, or shed it completely. It kinda worked. I wasn't that weird-ass kid that people talk about. I wasn't "that guy". I got over my weird puberty phase, and just started to take everything in. It was great. It just helped to relax and just chill, while obviously keeping up my grades.
Because I'm Asian, duh.
Throughout high school, I would always hear everyone tell me, "Man, high school was the best. You better enjoy your time in there, because the real world sucks! GIANT. DICK!" I was like dayum, I guess I should enjoy my time here.
So all the things that I've always heard about, dating girls, fucking girls, prom, homecoming, all of that stuff! I was gonna do ALL OF IT.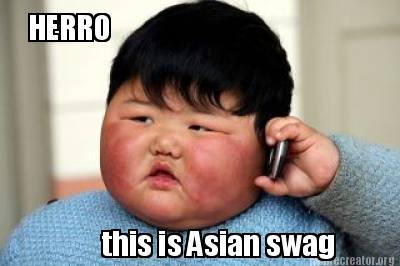 and why not? I had only four years to experience these things, or I would die never knowing. I would never know how prom went down. I'd never go to that homecoming game. So it's pretty obvious that I had to do everything to get the most out of my life. I won't ever have any regret. I won't be telling my kids, "well…your daddy didn't go to prom…cause he was a loser. sad face".
As you can tell from my previous posts, I'm a cinephile: I live and breath movies. However, I also love music and video games and all forms of art. All of them have romanticized prom, homecoming, etc. I was expecting a lot of of these things. I expected…
going to prom, and having that romantic dance and kiss…
going to homecoming, and kicking the other team's ass…
dating 999 girls and having sex with them all…
Then. reality punched me right in the nuts with a well placed hook. I went to prom, without a date. Stayed for an hour, left, went home, and slept. I went to homecoming. We lost. I dated a few girls.
I'm a virgin.
So I guess that was a punch to my ideals. I wondered…why didn't things happen like the movies? huh. oh well.
I shrugged it off and went on to… MOTHERFUCKING COLLEGE.
COLLEGE IS WHERE THE REAL SHIT IS, ALL THE STRAIGHT-TO-DVD AMERICAN PIES, ANIMAL HOUSE
FRATS FRATS GIRLS GIRLS 24/7 SEX OMG I'M GOING TO HAVE SO MUCH SEX MY PENIS WILL BE SO SORE BUT WHATEVER IT'S COOOOOOOLLLLLLLLLLEEEEEEEGGGGGEEEE BOOOOOOBIIIIIIIIEZZZZZZ
IT'S AN EXPERIENCE, ENJOY IT, THE BEST 4 YEARS OF YOUR LIFE (My dean said this).
I think you know where this is going though.
I got into college, single and ready to mingle. What I found was not at all what I expected. I got…really hard classes, and people that weren't really…all that enthusiastic. See, I'm a really random (and purposely outrageous) guy, but these people I met were…kinda like cardboard cut outs of what a good AP kid should be. Everyone was polite, no one was rude. I would just feel bad and awkward if I started to act like myself.
I've never once said "How are you?" to someone my age, until the first weeks of college. It was always relaxed, like, "what's up?" or "HEY DOUCHEBAG".
So everything that I learned in high school, woosh, out the window.
My college experience is the hard-as-fuck version of high school. I'm a commuter you see, so I go to school, go home, and do homework.
The school's just bigger now.
I also know that it's probably just me that feels like this. I see so many pictures on facebook of all those guys and girls that are at parties and are grinding up on each other. I'm not being judgmental and looking down on them: I'm envious.
I guess this is where my final point comes in.
So with a lack of experiences that I feel like I should be having, I also feel like I'm not living my life to the fullest. Which adds regret into my life.
Regret on a deathbed, sucks GIANNNTTTT DICK.
Chalk it up to my anti-socialness, or my commuter-ness, or just me not being me, but I'm not getting the promised "college experience".
I've decided to dive into as many movies and video games and music albums as I can to absorb as much experience as I can. I can live through people. I can watch American Pie and say "that's me!"
I'm living in a huge vacuum of false, romanticized notions, and sometimes, I guess that's the way I like it.